Regular price

$1,650.00 USD

Regular price

Sale price

$1,650.00 USD

Unit price

per

Regular price

$2,400.00 USD

Regular price

Sale price

$2,400.00 USD

Unit price

per

Regular price

$1,250.00 USD

Regular price

Sale price

$1,250.00 USD

Unit price

per

Regular price

$2,800.00 USD

Regular price

Sale price

$2,800.00 USD

Unit price

per

Regular price

$1,850.00 USD

Regular price

Sale price

$1,850.00 USD

Unit price

per

Regular price

$2,800.00 USD

Regular price

Sale price

$2,800.00 USD

Unit price

per

Regular price

$1,850.00 USD

Regular price

Sale price

$1,850.00 USD

Unit price

per

Regular price

$1,400.00 USD

Regular price

Sale price

$1,400.00 USD

Unit price

per
About Artist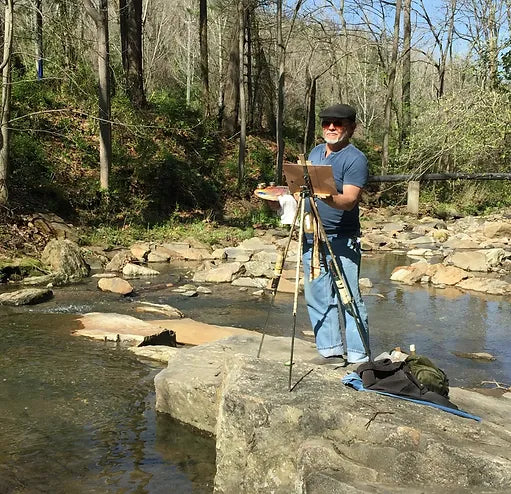 About John Mac Kah

John Mac Kah sees himself as part of the American tradition of landscape painting. His family heritage is grounded in the southeast. His great-grandfather was a cabinet maker who moved from Germany in 1842 to settle in central Georgia. His grandfather, John S. Kah, took up photography very early, listing it as his occupation in 1890 when he was a young man in Macon, Georgia. He established his own commercial photography studios in old Cedar Key, Florida, and later in Bradenton, Tampa, Jacksonville, Durham, NC, and in Vermont, moving seasonally. His work can be found in historic archives in North Carolina, Georgia and Florida.

John's father and mother both worked in his grandfather's shop (she hand-coloring images). They later had a photo-engraving business, so image-making was part of family life. John was interested in natural history, and once considered becoming a herpetologist, keeping snakes and turtles and rescuing wildlife.  He became interested in drawing animals, fascinated by the challenge of rendering them accurately, later grounded in a context of careful use of tools and materials and exposure to visual culture, something that still engages him.

During art school, because the focus there was more on abstraction and modernist styles, he went his own way, researching and seeking out mentors who could give him training in use of traditional oils, though he does sometimes use acrylic, and on occasion, alkyds for some applications. His skills are largely self-taught, though he did do a lot of drawing in art school. He often paints on panel or linen, using traditional grounds, mediums and materials.

He has a Bachelor of Fine Arts graduate degree from Ringling College of Art & Design in Sarasota, Florida and has had a freelance/private studio since 1984. His work is in private and corporate collections in the southeast and internationally. He teaches from his studio and in nationally known schools including the Fine Arts League of the Carolinas, Penland School, John C. Campbell Folk School, and Arrowmont School.