Vendor:

Regular price

$1,250.00 USD

Regular price

Sale price

$1,250.00 USD

Unit price

per

Vendor:

Regular price

$4,600.00 USD

Regular price

Sale price

$4,600.00 USD

Unit price

per

Vendor:

Regular price

$5,500.00 USD

Regular price

Sale price

$5,500.00 USD

Unit price

per
About Artist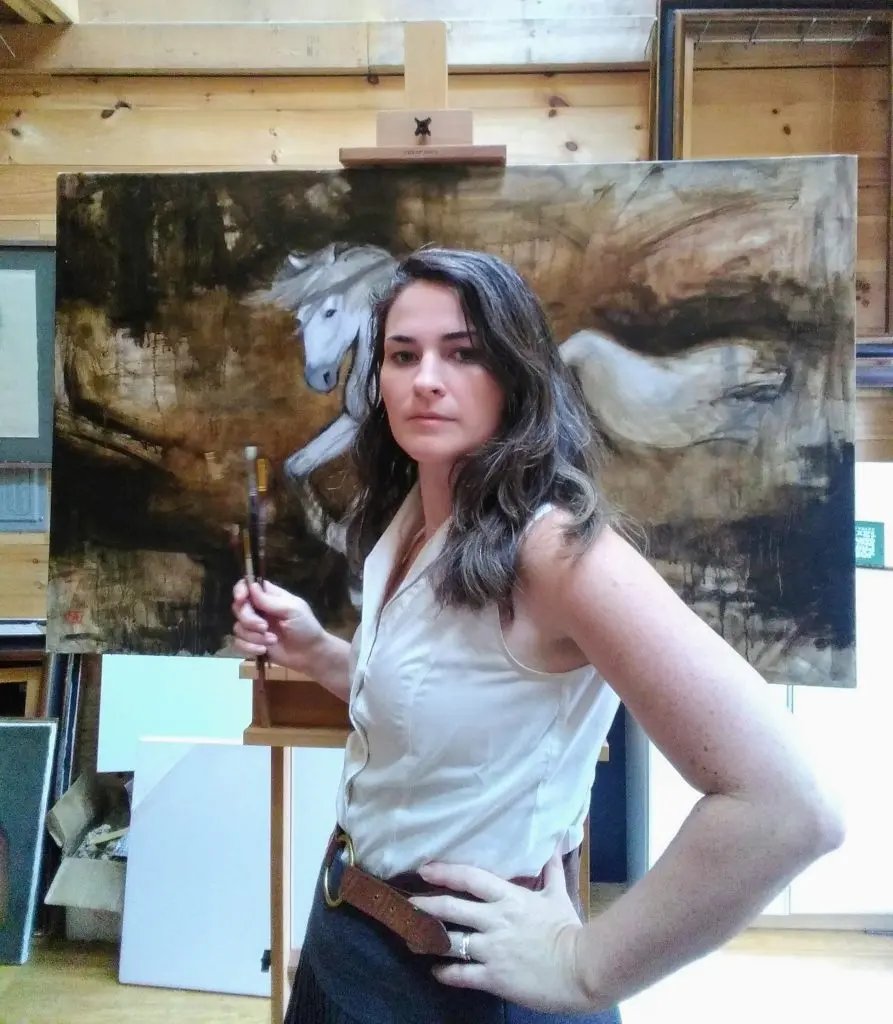 About Rebecca King Hawkinson

Artist Rebecca King Hawkinson's paintings have been housed in private collections in the US and abroad since 1999.  In 1998, King left high school early to study at Montreat College in Black Mountain, NC.  Subsequently, in the same year, American Artist and Fresco Master Benjamin Long IV completed his fresco on the Montreat College campus entitled "The Prodigal Son." King began to study with Long in 1999. That same year, she began landscape painting during a five-week trip to Long's studio in the South of France.

In December 1999, she married Paul Nathan Hawkinson. At this time, she began showing her work in solo and groups shows. She also worked as a studio assistant to Long, as a fresco apprentice and color assistant. In subsequent years, Hawkinson returned to Europe to create many more works of art.

Hawkinson taught drawing and oil painting from 2005-2012 at the Fine Arts League of the Carolinas in Asheville. Not only was she teaching, but in 2008 Hawkinson gave birth to a son, Ezra Laurin Hawkinson. She traveled with her young son and her mother to paint for the first time in Ireland. In 2010, Hawkinson gave birth to a daughter, Eden Hope. Hawkinson completed a large commission in 2011. She prepared to return to Italy for a spring and she later took a fall painting trip to Fiesole outside of Florence.

Hawkinson gave birth to a third child, Orin Ransom, in 2012. The next year, Hawkinson began traveling in the US to paint in new locations, including Carmel, CA. In 2015, Hawkinson's poem, "The Golden Days are Numbered," was published by Mothers Always Write, an online journal of poetry and essays on Motherhood. Hawkinson gave birth to twin girls, Ayla Brynne and Tessa Grace, in 2015. Paul and Rebecca Hawkinson completed construction on a hand-built wooden studio and home designed by Rebecca in Black Mountain, NC in 2016. The Carolina Home + Garden article, "Unstill Life," by Tom Kerr in April of 2016 featured Creative Artist Rebecca King Hawkinson and her art in 2016.

King Hawkinson maintains a working studio practice in Black Mountain, teaching students, making new paintings, and taking portrait commissions. In 2023, King Hawkinson's painting "Eulogy of the Besieged" is on tour with Bullets and Bandaids: A Veteran Anthology, on exhibit at the Columbia Museum of Art.